The Optimisation Hub not only represents diversity and inclusion through its actions.
We are from 26 cultures and we speak 16 languages. 

Alipate is a well-respected name in Australian Football League (AFL), South Australia where he has established himself as a committed athlete and community contributor having played 167 games during 11 seasons with the Port Adelaide Football Club. Alipate works to help elite athletes leave their chosen sports as thriving people who can achieve well in every facet of life. He is committed to multicultural and indigenous support and has become a strong part of the Optimisation Hub athlete education team. Alipate is driven by his firm belief that all athletes have plenty to offer outside of their sports in everyday life and that they can positively contribute to society.
Amelia is an athlete who made her debut for the Papua New Guinea (PNG) Women's 7s team when she was 18. She switched to rugby league in 2016 and made the Queensland (QLD) women's team. She played two matches for the Australian Jillaroos in 2017 and played in the Women's Rugby League World Cup for the PNG Orchids. Amelia played for the Queensland Maroons in the first ever Women's State of Origin and recently signed with the Brisbane Broncos for the upcoming first ever Women's National Rugby League (NRL) Competition. Amelia is a master trainer specialising in athlete lifespan, well-being for women and athlete development education. Amelia's passion for athlete education and the Pacific makes her one of the Optimisation Hub's leading master trainers.
With a background in corporate management, Anna is also a qualified Personal Trainer (PT) and level 3 Wellness Coach. Her career in the Healthcare software industry built the foundation of Anna's varied career, which have included both functional and technical roles, which then led her into management. It was during this time that Anna was able to apply her high-level communication skills and work with a variety of national clients and become an advocate on behalf of vendors and clients for industry change with the federal government. It was during this time that Anna realized the potential that a coach has to offer clients in working with them, to not only make lifestyle changes that impacts their immediate health, but life choices that have a long-term impact on their life. Anna has been exposed to several cultures with the opportunity to work as a trainer in Australia, China and recently, in Singapore.
Stemming from Australia and by background Polish, Anna has extensive international experience in Strategy and Transformation for Workforce of the Future, HR Digital Transformation, Regional Operations Management, Human Performance, Leadership, High Performing Teams, External and Corporate Affairs, International and Government Relations, Innovation, Design Thinking and Human-centred transformation and change management. She is a certified Executive and Career Coach and holds an Executive MBA amongst other education and certifications in the fields of Project Management, Financial Accounting, Business Management, and Gemmology to name a few. With 23 years spanning across Australia, the United States, UK, Southeast Asia, Singapore and now the Middle East, Anna is a business leader and executive of global delivery. She is a strong activist of mentoring and coaching leaders and has been in a field of mentoring and coaching women in business and entrepreneurship, as well as mentorship to STEM students from low socio-economic backgrounds. Her passion lies in unleashing people's full potential by helping them speed up their growth and transformation. She combines the art of coaching with the art of deep human understanding and dynamic action methodology. She is a competitive athlete, with 20 years of professional ballroom dancing, starting her sport career at a young age in competitions in Europe and being an instructor on Broadway, NYC. Her love for sport led her to now being competitive in an arena of bodybuilding as well as developing mental resilience in athletes. She has shared her knowledge and experience through keynotes, forum memberships and women leadership platforms globally. She is a writer and an author of her book "Reimagine the Possible: Unleash your full potential and have a more fulfilling career and life", and contributor to the 'Authorities'.
Charlie is part of a respected cohort of athlete trainers with a history in one of the world's most respected rugby teams, the All Blacks. He brings with him his culture, ethics and compassion for youth development and support of the Pacific. Born and raised in Tonga, he believes in striving for excellence in everything he does and reached a personal pinnacle when he represented New Zealand playing for the All Blacks in 1997 and 1998. After dedicating more than ten years to a professional rugby career, both in New Zealand and overseas, Charlie is one of the Optimisation Hub's master trainers in youth development and coaching support.
Daniel has a broad range of people driven experience and is an operational excellence driver in any environment. His ability to coach and mentor has led him to outstanding reviews and accolades as both a coach, coach mentor and athlete educator. Daniel has been at the forefront of initiatives around youth coach development and player development seeking to ensure that grassroots sports is supported as well as professional sport. Daniel has a self- confessed passion for youth player development and developing grassroots coaching structure. During the past 30 years, Daniel has been involved with several sports in both a playing and coaching capacity. Over this time, he has developed a mindset and attitude that has led him on route to becoming a mentor to other coaches, beginning their journey down a similar path. Daniel spent time as part of the New South Wales Institute of Sport (NSWIS) training program along with many representative duties during his playing career. These experiences helped carve a path to achieve the standards and expectations that Daniel strives for within his coaching capacity.
Deidre has worked across senior executive positions requiring exceptional leadership and change agent capabilities. After 4 years as CEO at Macquarie University, Sydney, with a further 8 years prior as Executive Director (ED) of Sport, in 2011. Deidre began her position as Deputy Vice Chancellor (DVC) Students and Registrar at Macquarie University, Sydney where she was responsible for the overall student administration, wellbeing, and student life. As an Athlete Services Director at the United Kingdom Sports Institute (UKSI), Deidre successfully integrated an elite sports program incorporating all home countries of the United Kingdom (UK). The process involved enhancing the systems, people and technology required to ensure that UK athletes competed successfully on the international arena. As part of her role, she facilitated the successful integration of the British Olympic Committee.
Elda has a strong experience and professional background in the Olympic Movement, and in the corporate world. She has been working for 7 years as Head of Media & Public Relations (PR) of the Albanian National Olympic Committee, and later went on to become the Strategic Advisor and Consultant to the Kosovo National Olympic Committee and the executive board in 2015. She is an international soft management skills trainer and motivational speaker. She further holds the MEMOS IX degree which is an Executive Masters in the Administration of the Olympic Sport Organizations degree which is recognised as the most advanced Olympic sports masters. An 11 times ex-national champion in table tennis for Albania, she was the national team captain in the Mediterranean, European, and World Championships between 1992-2005. Elda is a dedicated trainer and presenter, and with her vast knowledge in languages, has been a leading interpreter in the sports Olympic Movement.
Fred is a dedicated coach with years of experience developing athletes in the game that he loves. Through his years of experience, he has developed a coaching philosophy which is simple – "give players the tools to help them problem-solve on their own so they can have a better understanding of rugby". Fred strives to create a learning environment where all players have the freedom to express themselves, both verbally and physically. His focus is on training the skill, not the drill and aims to provide constructive feedback so that athletes can grow into better players. Fred aims for his players to develop their "Back-Yard-Skills", by enjoying the game with the freedom to express themselves as well as develop into players with a solid skill set.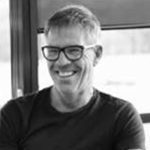 Glenn Warry
Master Trainer - Professional Coaches
Glenn is a specialist in advocacy, learning & development, and wellbeing strategies for talent within sporting organisations, corporations and learning institutes. He has worked within high performance sport environments over the past 30 years providing support to elite athletes, coaches, and referees. Glenn spent 12 years in Australian Football League (AFL) Club management roles, and then 5 years as a player agent, prior to gaining further tertiary qualifications in Elite Athlete Counselling & Workplace assessment. The past 15 years have seen Glenn being at the forefront in progressing national holistic development and wellbeing programs for professional athletes and coaches, establishing, and managing inaugural programs for Rugby Union (ARU/RUPA) and Football (A-League & Matilda) players, referees, and national team coaches. More recently his work within football involved facilitation of the Football Federation Australia (FFA) national team high performance strategic planning and the formation of Football Coaches Australia (CEO since February 2018).
Graziella is the Optimisation Hub's Chief Executive Officer (CEO) and a warm force of passion and dedication to sport. Graziella is highly trusted and celebrated in sport, corporate and education. Her commitment to sport is profound and her passion for long term player care and educational development has been guided by 30 years of committed experience in human performance, risk, psychology, and leadership. Holding a Master's in Psychology, with specialist qualifications in forensics, business and sports psychology, her current work is dedicated to small nations development and leading a world first mental health sports curriculum. Graziella is both a leader and trusted advisor of Rugby Legends and leads the eHMIC round table on e-mental health for sport with 13 nations. Graziella has been a global mentor for Sport Integrity Global Alliance (SIGA) for the past 2 years and United Nations Alliance of Civilizations (UNAOC) Global Dialogue Foundation. Her experience consists of mentoring significant leadership teams and contributing to change and economic growth around social responsibility and community development, charity and giving back which is in her DNA. She spends 30% of her time volunteering and is a keynote speaker in 12countries sharing her expertise and moderating panels in sport and corporate such as MEI, Sport Accord, MOC, KNOC, Commonwealth Games, and sports federations. As CEO of the Optimisation Hub, she has funded a sports mental health curriculum that fills the gaps in sports at the athlete, coach, and event development levels.
Growing up in Central Queensland sport is a way of life for most kids This meant Ian was competing in any sport available to him. During his time as an athlete Ian turned his had to many sports.  Most notably winning national titles and being part of world cup training programs in white-water rafting and Outrigging, Boxing at National Golden gloves level as well as having success in Rugby League, Football, volleyball, and swimming.  In his working life as a teacher Ian is currently part of the foundation staff of a brand-new College in Far North Queensland.  In his role of Leader of High Potential Students Ian has been tasked with not just developing the gifts and talents of the students but also establishing and growing the culture of the College.  Ian has been able to effectively compliment his teaching career with his passion for coaching and has used the skills he has developed to enhance his ability as a coach and vice versa. Whilst completing a Masters in Sports Coaching, Ian has also been fortunate to coach teams at a junior and school representative teams, as well as working in the elite youth development pathway for Rugby League. Ian's passion and skills have also seen him moving into a role as a coach developer for National Rugby League (NRL) development.
John-Earle has a desire to bolster the capacity and understanding of athletes, individuals and teams, sports organizations, and coaches on mental resilience. With a particular interest in facilitating the development of processes that address the welfare of young athletes in their overall human development but also alleviating the challenges to transitioning national representation and professional development. His focus lies in the safeguarding of young athletes to help them in their academic, social, emotional, and physical development as well as the transitions of athletes at different levls – school athlete to university athlete, amateur athlete to professional athlete, amateur athlete to civilian life etc.
Kai is a coaching professional with over 30 years of experience in coaching elite national and state teams at World Cups, Asian Cups and other International and National Tournaments. His expertise includes educating sports coaches and developing, managing and coaching national sports programs. This includes building and implementing research-based elite athlete mentoring programs, mentoring students and elite athletes to support their health, wellbeing and performance, all while managing many staff across multiple locations and programs. Kai is currently a Paralympic National Coach with a passion for creating pathways for footballers living with disability, fostering a lifelong passion for sports and enabling each player to play with confidence to the best of their abilities.
Kemoy grew up in Rose Hill, Manchester, Jamaica with four of his brothers. He is a retired Jamaican Distance runner that started his career in high school, then went on to college and eventually the professional level. He competed for Jamaica for 12 years. He started at age 15 after realizing he had a talent for distance running. He further competed in multiple World Championships events, one of which he finished 10th in 2017 London World Championships. His biggest accomplishment was competing for his country at the Rio 2016 Olympics. His retirement came after he suffered a heart failure incident at the 2019 Millrose Games in New York. While at a pacing professional mile event, he collapsed and was revived via CPR and AED. He decided to start coaching because he wants to help young athletes get to where he has gotten in track and field, and eventually surpass him. His passion for helping people has put him in contact with Optimisation Hub. With OHUB equipping former/current athletes with the tools to help younger athletes be more resilient in sports, he wants to be able to help the athletes that he is in contact with and those that would need his help. He wants to be able to help his country's athletes to be the best that they can be, both on and off the field.
Dr Kirill is an established Sports and Exercise Medicine expert holding various positions in the Republic of Malta, namely, SEM Consultant Mater Dei Hospital, Medical Director Malta Football Association, Director Maltese Olympic Committee, Chairman of the Medical Commission of the Maltese Olympic Committee and is a senior lecturer in Sports Science at the University of Malta. Until recently, he was Vice President of the European Federation of Sports Medicine Association and Head of the Sports Medicine Section within The Presidential Guard of the United Arab Emirates (UAE) Armed Forces. Over the decades, Kirill has organized, managed, accompanied, and enjoyed major heartbreaks and joyous moments with Team Malta during the Olympic, Commonwealth and Mediterranean Games.
Maria Vella-Galea brings a well-rounded, very committed, and experienced background to her work with the Optimisation Hub in the European Union (EU), United Kingdom (UK) and Australia. Maria is an experienced Marketing and Public Relations (PR) consultant heralding over two decades of experience. Maria has made it her mission to promote sports, not just for the elite pool of athletes that Malta is developing but to the public in general. Maria works extensively with sporting organisations, federations, and clubs, giving them due exposure todevelop the sport, as well as, to lobby towards more take up in sports by the public and encouraging sport as a means of physical and mental wellbeing. Maria is an Executive Director (ED) with the Maltese Olympic Committeeand forms part of the Technical Commission lead by the Director of Sport. She brings something very unique to the collective team with much of her time dedicated to helping athletes to succeed outside of and within sport. Maria carries a compelling business and athlete centred presence making her a unique leader in sport.
Melanie is an Australian Olympian with over 20 years of experience in leadership, building High Performance (HP) Teams, developing team strategy, and maintaining a winning performance. She is a highly sought-after speaker and coach who delivers inspiring messages about what it takes to evolve to be your best. Melanie was, additionally, a professional softball athlete who focused many years on preparing and competing against the best athletes in the world. Throughout her professional sporting career, Melanie has developed a myriad of invaluable and transferable personal and interpersonal skills that strongly bind her responsible work ethic to the workforce.
Onica is a passionate and enthusiastic teacher who has been in the teaching profession for the past 10 years and of those 10 years, she has been a school deputy head for 5 years at Chiremba Primary school where she is currently working. She has successfully led the school in becoming one of the best schools in the district, province and nationally. Aside from being a teacher Onica is a published author who has co-authored 3 high school textbooks on Physical Education Sport and Mass Displays. She also serves as a committee member of Zimbabwe Olympic Committee Sport active Society Culture and volunteers' commission. In her part time she enjoys coaching swimming and volunteering on different sport development programs. Her educational background includes a Diploma in Education, majoring in Physical Education and Sport from Belvedere Technical Teachers college in Harare. A degree in Sport Science and Coaching from the National University of Science and Technology in Bulawayo, and a Masters in Sports Management and Policy Development from the Pan African University of Life and Earth Sciences hosted at University of Ibadan Nigeria. Onica also possesses several professional certificates in Sport Management and Leadership from International Olympic Committee (IOC), Sports Integrity Global Alliance (SIGA), Women Sport Leadership Academy (WSLA) and, African Union Sports Commission (AUSC) Region 5 Women Leadership Program WLP were she recently graduated as the best student in her cohort. Her long-term goals and aspirations are to work for international organisations such as UNESCO. UNICEF, UNHCR, AU, were she wants to use her untiring commitment and passion to help develop and promote sport to marginalized communities across Africa and beyond.
Pandora is a sport loving kiwi who loves playing, watching, and working in sport. She is a sports executive who has worked extensively across multiple sporting codes from grassroots to national and professional sports teams. Her experience in event delivery has seen her contribute to many major events including London Olympics, World Masters Games, FIFA, FIBA and Rugby World Cups. Pandora's sport management qualifications combined with her on the ground knowledge has given her insight and understanding to the demands of athletes, coaches, national sporting bodies, international federations, and private owners. She is passionate about developing pathways and opportunities for women in sport having assisted in the Pacific with the Cook Islands Women's Rugby 7s program. As a master trainer with the Optimisation Hub, Pandora applies her 30+ years of knowledge to supporting her passion to build mental resilience and improved outcomes for athletes, sportswomen and within sport.
Patrick Washington or 'Coach Pat' as he is fondly known as, brings a lot of global Basketball experience and expertise to the organization in strategic program management, game and development, player and personnel management. He's a teacher and coach of the game of Basketball for over thirty years and serves as President and Chief Executive Officer of the Elite Basketball Camps. A former professional basketball player, Global Games General Manager, and an experienced business manager, Patrick is the Director of Youth Development and Competitions for the Federation Haitienne de Basketball (FIBA Haiti), he's also the Founder, President and CEO of a Dallas faith-based Christian Academic and Basketball program XAR3 BC Dallas. Currently, he is the current Head Boys Basketball Coach at WT White High School Dallas, Texas.
 As a master trainer, Paul brings huge experience in sports spanning 40 years. Paul played semi-professional rugby league for 13 years and developed a passion for trying to help people be the best they can be, particularly athletes. He has worked with the Australian Sports Anti-Doping Authority (ASADA) in a role that brought him face to face with some of the world's best performing athletes. Paul's experience brought him to the Optimisation Hub as he sought to carve work in mental resilience and core educational programs, as the gap and the necessary asset, for sport in the modern era of professionalism. Paul has worked closely with the Brisbane Broncos in establishing an internal education program to assist young players in making favourable life choices.
Ramone started as a professional athlete in Football (Soccer) which gave him global cultural exposure, developing his professionalism, appreciation of diversity and interpersonal skills. Returning to Australia, he gained insight into the public sector, health, manufacturing, general logistics and sporting industries which has given him the ability toquickly understand the needs of clients and provide informed support across recruitment solutions and strategy. Ramone wants to increase the participation of indigenous players in the sporting world game. Seeing more indigenous players succeed in Australia or overseas would make him extremely proud.
Originally from Australia, Ryan has extensive international experience in Major Global Events, as well as holding Executive Management positions in the Facility Management, Retail, Commercial and Government sectors. With 15 years in the Middle East, Ryan is a proven business leader with a strong focus on culture, integrity and accountability. Having been an employer of lower-income workers in the UAE, one of Ryan's passion projects is organisational culture and corporate social responsibility, specifically in relation to blue-collar worker welfare. This was the core topic of a Business Research Project Ryan recently undertook and was one of the key focuses of his most recent role working directly for the Expo 2020 Dubai organisation that staged a mega event over 6 months with 24 million visitors. Outside of corporate life, Ryan is an avid sportsman, having a brief professional rugby career but also playing AFL, cricket, tennis, squash and golf at a competitive level. Being able to thrive in these team environments has enabled Ryan to translate many skills into corporate endeavours. At the forefront of this is the ability to motivate people and foster high performance.
Tam is a highly motivated and experienced rugby player and coach, coaching and playing from grassroots to elite level. Tam has provided extensive input in her communities and clubs through working, mentoring and volunteering in several different coaching environments. She is an enthusiastic team player with an extensive and highly successful playing career, including captaining the England Rugby team, becoming the 4th English player to reach 100 caps for their country and playing in 4 World Cup finals. Tam is driven to support and develop others using her experiences and accomplished people skills, to enhance performance in athletes across the globe. Tam is a mental health ambassador for the 100 World Legends Charity that utilizesthe game of Rugby to support underdeveloped communities and raise money.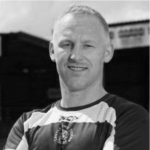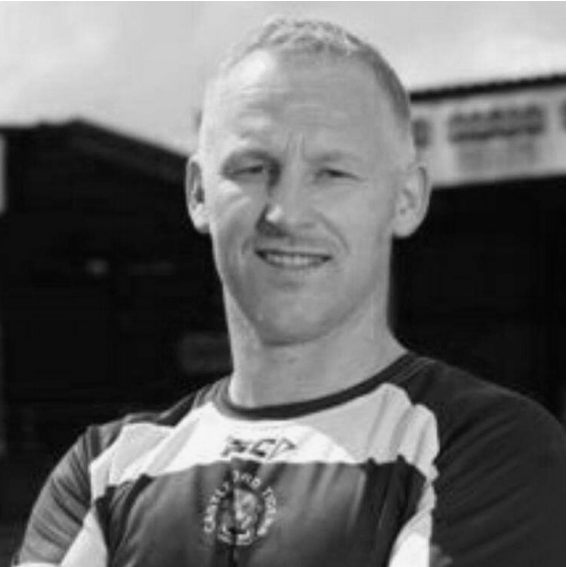 Tim Rumford
Master Trainer – National/International
During his career, Tim has worked in performance coaching roles at League One and championship level in the sport of Rugby. Whilst he has also enjoyed success as a Super League Academy Head Coach, Player Performance Manager and Foundation Manager. In addition to this, valuable experience as a coach and his extensive qualifications via coach education pathways & further education. One of the highlights of Tim's coaching career has been working with the female game during the inception of the Women's Super League (WSL) Competition to help install and integrate the female game into the professional club environment. He was also responsible for delivering the England Talent Pathway programme, a ground-breaking 'open access' programme for 12 – 16 players and setting up and establishing the Castleford Tigers College of Rugby League for 16–18 yrs. old – the clubs 1st combined full-time education and performance programme. Tim can be described as an ambitious and constantly aims to continue his professional development at every opportunity.
Making people smile is what Simone Edwards has done, on and off the basketball court, her entire life. The 6'4" former centre, born in Kingston, Jamaica, was the first Caribbean and Jamaican player to sign with the Women's National Basketball Association (WNBA). She spent her time in the league playing with passion and building a lasting relationship with fans. As a high school senior, at Kingston Technical High School, Edwards was offered a full scholarship to an America college, but only if she learned to play basketball. Frequently referred to as the "Jamaican Hurricane," Edwards is famous in the WNBA for her fan-favourite "Shimmy Shake." Edwards gained international prominence when she became an overseas basketball star in Italy, Hungary, Israel, and Spain and led the teams to championships in the Israeli Cup and the Spanish Copa de la Reina. In 2000, she returned to the WNBA; Edwards signed with the Seattle Storm during their inaugural season where the team won the WNBA championship in 2004. In 2006, Edwards announced her retirement after a six-year career with the Seattle Storm and retired as the last original player and the longest-tenured member of the original Seattle Storm roster. Post-retirement, Edwards served as captain of the Jamaica Basketball Women's National Team and led the team to its first championship medal by winning the gold at the 2006 Caribbean Basketball Confederation Championship (CBC). She duplicated this feat of returning to the Women's national program as head coach and won the Gold Medal at the CBC in 2014. She is passionate about developing pathways and opportunities for women in basketball through equipping help younger players with the tools be more resilient in sports.