TAKE CHARGE OF YOUR FUTURE
Our evidence-based programs provide athletes with proven strategies and tools to understand mindsets, create change and develop and embed behaviours today.
With all sports unanimously calling for sustainable prevention education to build athlete mental resilience, The Optimisation Hub has answered the call by delivering state-of-the-art short-phased programs designed to work alongside any sport. The Optimisation Hub is the Home of Resilience and a world leader in prevention education.
Athletes are at greater risk of mental health disorders if they are injured, approaching or in retirement, or experiencing performance difficulty. Performing at an elite level can compromise mental wellbeing and increase symptoms associated with anxiety, depression and burnout. Generally speaking, athletes start to see physical declines at age 26. For swimmers, the mean peak age is 21.
Our sporting culture is based on strength, a great team identity and that high performance is a winning attribute. There is pressure to perform and the associated praise, adulation or acceptance is damaging to mental health and self-esteem when it evaporates. This gladiatorial approach is supported by the depth of our sporting resources, meaning we simply replace the athletes who burn out. However, the cost to the individual, and our sporting culture, is beginning to tell its own story.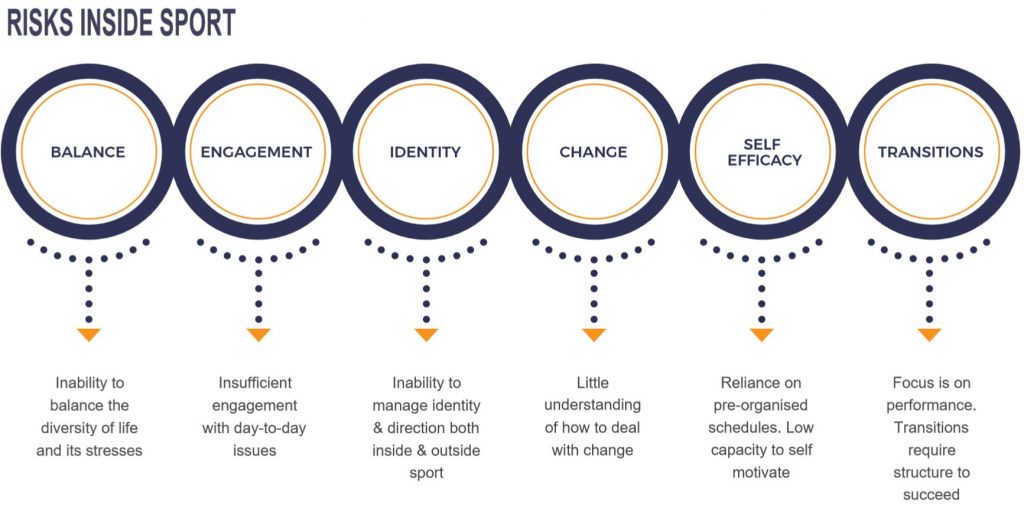 Stigma, lack of understanding and poor past help-seeking experiences are major barriers to athletes seeking support. The language of mental illness is stigmatising for athletes, which impacts on diagnosis and intervention.
Competitive athletes may have fewer positive attitudes toward help-seeking for mental health problems than non-athletes, perhaps partially due to it being perceived as a weakness.
In Australia, sport is a religion. It is woven into the fabric of our society and plays a significant role in shaping our national identity and culture.
As sports fans we win through our sporting heroes, sharing the collective joy they give to the nation, often bringing the entire country together to celebrate their triumph.
Australia is successful in the international sporting arena. Sports like cricket, rugby league, rugby union, netball, football, tennis and swimming deliver global success and accolades.
Domestically, AFL ignites passion and tribalism from supporters, while our iconic stadia are amongst the nation's most notable landmarks, revered for their status and symbolism in the community.
Aside from the pressure to perform, fans and media alike now demand unrestricted access to an athlete's life, and scrutinising their every move.
The latest research indicates that mental health is now the number one issue for Australian athletes at all levels and in all age groups.
Sportspeople are influential and willing to give back to both their sport and their communities.
Supporting them to do this in a healthy, constructive way will promote impactful nationwide social change by exerting positive influence over their peer groups and the general public.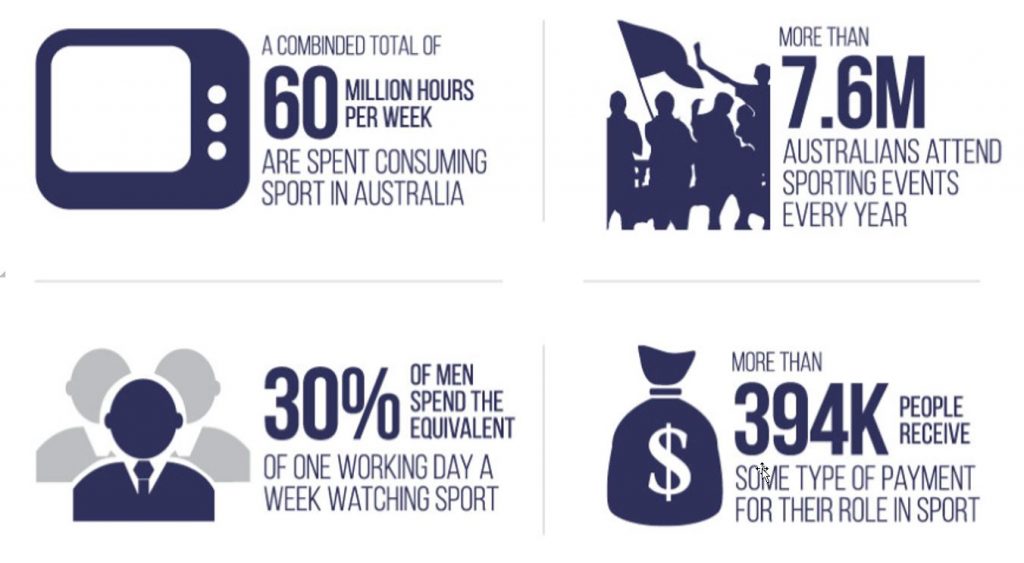 our research with our global partners showed

GLOBALLY, 20.12% OF ATHLETES EXPERIENCED PSYCHOLOGICAL DIFFICULTIES
NORWAY – 43% OF ATHLETES EXPERIENCED ANXIETY AND/OR DEPRESSION
74% OF ATHLETES EXPERIENCE ADVERSE NUTRITIONAL BEHAVIOUR

US COLLEGE – MALE ATHLETES HIGHER RISK OF SUICIDE THAN FEMALE ATHLETES
MORE THAN 394 THOUSAND PEOPLE RECEIVED SOME TYPE OF PAYMENT FOR THEIR ROLE IN SPORT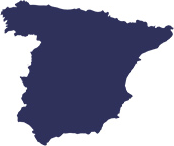 SPAIN – 33% OF ATHLETES EXPERIENCED SLEEP DISTURBANCE
FINLAND – 17% OF ATHLETES RESORT TO ADVERSE ALCOHOL BEHAVIOUR

US COLLEGE – SUICIDE RANKS AS 4TH LEADING CAUSE OF DEATH
5.2 MILLION AUSTRALIANS ARE ENGAGED IN ORGANISED SPORT

ESTIMATED 73% OF ATHLETES TRANSITION FROM SPORT WITH MENTAL HEALTH ISSUES, LOSS OF IDENTITY, ADDICTIONS, ETC